The feminine myths are present everywhere. Because each woman is different and each one has different characteristics. In fact, this makes us unique and attractive to them. If we debunk all the myths with the answers, this could mean we stop making ourselves so interesting. In addition, there is a phrase that says: "My own world makes you stay interested."
The feminine world goes beyond what we will discover through this post. But, it is always entertaining to read about things that are generalized in the genre. For this reason, here are some responses from a group of gentlemen. They were interviewed by Cosmo Magazine and their answers are interesting.
7 feminine myths that perhaps no one understands about women
A big bag
One of the first topics men brought up in the interview was big wallets. In fact, they are aware that women must keep their wallets, makeup, and documents in them. But what they don't understand is why these accessories should be a bit oversized. Furthermore, they add that unless women secretly keep enough money, they do not understand why they use it.
The best handbags are waiting for you.
Feminine myths: Changing clothes several times
Without a doubt, men do not understand why women change their clothes several times. They even clarify that this issue confuses them a bit. In addition, they comment that women should understand that they look fabulous with any garment. What they don't know is that the wardrobe change is due to various factors. For example, sometimes we can wear a blouse, but we notice that it does not match pants. Or, vice versa, pants that do not match a blouse.
Also, the same goes for accessories, hairstyle, makeup, and more. Our idea is to create an outfit that combines perfectly. Otherwise, we will change clothes as many times as necessary. On the other hand, the occasion is also an important issue. Several times we have a party or work meeting and either we don't have to wear or we don't want to repeat an outfit. Therefore, this is also a reason why we change clothes several times.
Friends and enemies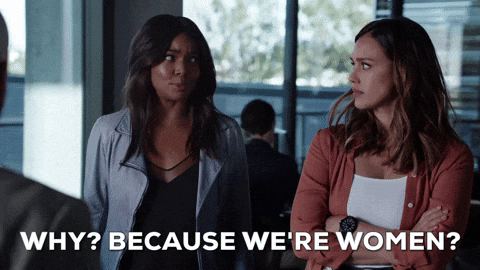 In other feminine myths, friends are also involved. Men say: "When you complain about your friend one day. But the next day you go shopping with her, it's confusing. " It is normal for this type of thing to happen between women. In general, we tend to fight or have problems with a friend. But, that does not mean that we stop maintaining a friendly relationship. Mainly when it comes to a close person that we do not want to lose for the world.
On the other hand, within this topic, there are also exceptions. Perhaps, most of the time they are only small problems. However, when it comes to more serious or serious problems, things change. And, that's when the friendship is likely to be damaged or we will not speak again.
Also, during the interview, the men added: "We too have friends/enemies. Except we call them ex-friends. And, we never speak to them again."
Do you want to look young? These jeans will make you do it.
Feminine myths: Why do women always want to look beautiful?
There is no denying it, you as a woman want to look amazing every day. And, this idea does not change regardless of a party or watching a series at home. However, men find this action difficult to understand. "We will never understand why women need to wear lipstick to shop at the corner store." In fact, this only makes sense to us. Because we always want our hair, makeup, and outfit to look flawless.
There are even times when we are not going to leave the house all day. But, we still want to put on makeup, put on cute clothes, and more. In addition, it is common for some women to dress up and take photos in their rooms in their free time. In order to post them on social networks, put them as profile photos, among others.
Keep a pair of flats in the bag
When we women have a party, the most common is that we want to wear heels. But, this raises some questions among men. For example, why keep flat shoes if you can use them from the start? However, men will never understand what is behind this issue. During the night, women want to look great. With a pair of heels that stylize our figure and combine with our dress. But what happens next?
The truth is that heels are wonderful. However, as the hours go by, our feet begin to cry out for us to take them off. And, this is the main reason why we decided to carry an extra pair of shoes in the bag. Because, otherwise, we will have to endure the pain throughout the night. On the other hand, this does not always happen, because there are women who resist all night in heels. Or, other women opt for lower heels that do not cause problems.
The best dresses to look beautiful on any occasion.
Shape eyebrows
Among the feminine myths mentioned in Cosmo magazine, they also talk about eyebrow waxing. Men mention: "While we appreciate that you worry about not having a gull's eyebrow. How can a woman endure so much pain on a regular basis? With the passage of time, different trends emerge that are progressively changing. And, this is what happens with the theme of the eyebrows.
There are many women who prefer to pluck their eyebrows for aesthetic reasons. For this reason, they perform this action from time to time. Also, they use different methods for this. For example, they use tweezers, wax, razor, among others. On the other hand, there are other women who prefer not to do it and show off their natural eyebrows.
On the other hand, there are also men who pluck their eyebrows. But, it should be noted that it is not a very common practice. The truth is that each person decides what to do, regardless of the opinion or criticism of others.
Feminine myths: Why do women hate the rain?
Men say they understand that we hate rain because it frizzes our hair. But, at the same time, they mention that they wouldn't even notice it if we didn't mention it so many times. In fact, within this topic, the fact that women iron their hair stands out quite a lot. And, for this reason, we don't want hair to be ruined due to rain. Or, if not, women who have wavy hair don't want their curls to come apart either.
5 hair masks that will solve all your problems.