The smell of the banana nut muffin is something from the other world. Without a doubt, time permitting, anyone would want to wake up and eat one of these. However, this recipe is quick and easy. And, with the nuts and the pinch of coffee, you will surely know what glory is. But why add coffee to the banana nut muffin? It turns out that tropical ingredients like banana, chocolate, and coffee combine perfectly. The coffee even brightens the flavors of the banana in the muffin even more.
How to make a banana nut muffin?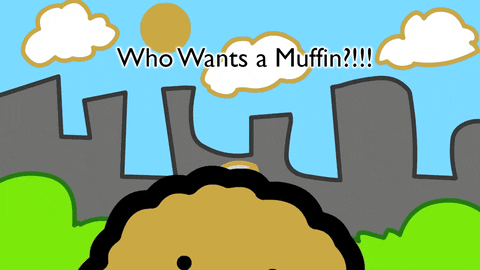 Preparation time: 15 minutes
Bake time: 25 minutes
Servings: 12
Note:
Don't you like nuts? Don't worry, you can omit them or change them for chocolate chips.
You don't need a mixer for this banana nut muffin.
Ingredients
1 tablespoon of strong coffee or espresso. Or, instead a pinch of instant coffee granules mixed with a tablespoon of water
1 teaspoon of baking soda
Pinch of salt
1 1/2 cups of flour
1 cup walnuts or chopped walnuts (toasted or raw)
2 to 3 ripe bananas, well mashed.
1/3 cup butter, melted. In fact, you can go for butter with or without salt. This will depend on your taste.
3/4 cup sugar
1 beaten egg
1 teaspoon of vanilla extract.
Do you like nougat? Discover its interesting origin.
Preparation of the banana nut muffin
Preheat the oven
The first thing you need to do first of all is preheating the oven to 350 ° F. Next, you'll need to cover a muffin tin with parchment paper.
Combine wet ingredients with sugar
In a large bowl, begin mashing the bananas. And, when you have them ready, add the melted butter. Next, you are going to add the vanilla extract, coffee, egg, and sugar.
Now it's time to combine the dry ingredients
In a separate bowl, whisk together the salt, baking soda, and flour.
This recipe for brownies will leave your guests fascinated.
Mix the dry ingredients with the wet ones
Next, what you are going to do is incorporate the flour mixture into the banana mixture. But remember to do it slowly, a third at a time, and stir until everything is incorporated. And, when you mix, don't do it so fast. Because in the end, you will get hard and dense muffins. Then add the chopped walnuts or walnuts.
Filling the muffin tins – Banana nut muffin
With the help of a spoon, pour the mixture into a muffin tin. Then, bake them at 350° F for 20 or up to 25 minutes. To check if it is baked you must press down on the top of the banana nut muffin. If it recovers, the muffin is ready. On the other hand, you can also insert a tester or skewer in the center. And, if it comes out clean, your muffins are ready to be tasted.
All about the muffin
The muffin is a pastry product that includes different sweet ingredients. In fact, these are baked in molds specifically for your use. In the same way, these have a cylindrical base and are generally wrapped in aluminum. However, the length may change depending on the case.
The cupcake and the muffin have some similarities, but the reality is that they are different foods. Because the muffin is less sweet and is made differently. At the same time, it is consumed at breakfast or during a snack.
Mexican food is delicious and Jalisco tacos are no exception.
History
The origin of this food dates back to England, specifically London from 1703. From the original word moofin, the name that we all know today is derived. And at the same time, this is an adaptation of the French word moufllet. Since that time, this cake was consumed during breakfast. Or, instead as a snack. In addition, some flavors such as chocolate, spices, dried or fresh fruit began to be included.
As time went by, in 1950 the food began to be commercialized in England and the United States. Through different food stores, pastry shops, and cafes.
Ingredients – Banana nut muffin
In general, muffins are made from wheat flour, cow's milk, and vegetable oil. They also include egg, vanilla essence, and sugar.
Types of muffin
American muffin
Without a doubt, the muffin that most people know is a sweet food. Made in a similar way to cupcakes. The only difference is that the ingredients vary. In fact, these muffins are made in a mold and can have different flavors. In addition, it is possible to fill them with salty and sweet ingredients. Something you should keep in mind is that they should not be confused with a cupcake. And, its origin dates back to the 19th century at the hands of British emigrants.
Do you want to start a healthy morning? These sandwiches are the solution.
English muffin
On the other hand, we have the English muffin. This is common to find in the United Kingdom and in Commonwealth countries. It is a bread with a presentation completely different from the traditional muffin. In fact, this food is made with baking powder and has a fluffier texture. Another difference is that these do not need a mold for their preparation. The only thing to keep in mind is to turn them over and flatten both sides during cooking. These muffins can be eaten in sandwiches or on their own.
The song The Muffin Man describes a muffin vendor who works door to door. This lullaby became known during the 19th century thanks to Jane Austen. Because she was telling the story of a man who sold them. Also, back then the buns were leavened dough and baked on a griddle.
On the other hand, muffins have their origin in the 10th century. But the bread roll became a trend during the 18th century. Then, in the early 19th century, there were already many bun factories and the bread man was not a novelty.
Muffins are generally available for retail sale in Canada, New Zealand, and the United States. It is also common to find them on the menus of restaurants that offer fast food. In addition, these muffins are toasted and spread with jam or butter depending on the taste of the person. On the other hand, this food can also be used as a breakfast sandwich with meat, egg, and cheese. In fact, when it comes to brunch in New York, muffins are the main ingredient in "Eggs Benedict."